Kancho Joko Ninomiya Art
2020
Enshin Kaikan Karate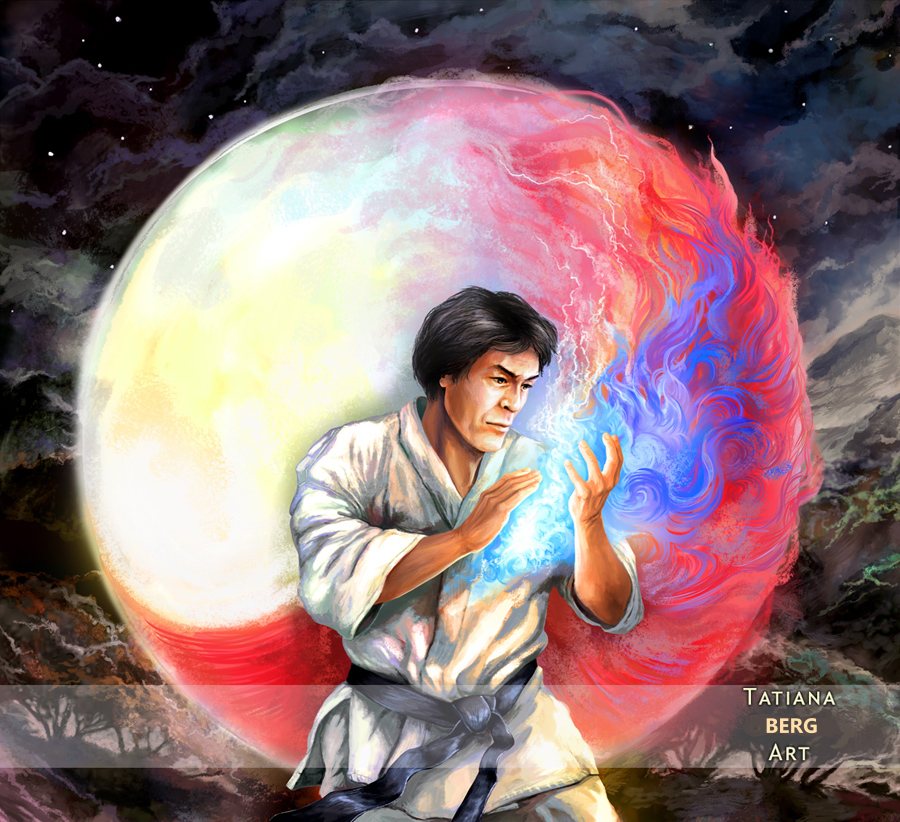 Kancho Joko Ninomiya Art
Kancho Joko Ninomiya, an outstanding karate master and founder of the Enshin style.
A student of Hideyuki Ashihara, Joko Ninomiya first began training in Kyokushin; he finished third in the first All-World Tournament (1975) and won the All-Japan championship (1978), but later started his own style--Enshin Karate-do, popular all over the world, and in Russia as well.
The name "Enshin" consists of two Japanese characters: "en," or "unfinished circle," and "shin," or "heart." It is known that sabaki (body repositioning), a type of circular body movement to get into the blind spot of your opponent to use their power and momentum against them, is a method actively employed in Enshin, but the name of the style also implies constant self-improvement that has no end like an unfinished circle, putting your heart into your training and being spiritually united with everybody following the same Way.
In the painting, Kancho produces the energy from his heart "shin" and creates the unfinished circle "en." The circle is alive and in the state of constant development, attracting the hearts of Kancho's students and guiding them on the Way.
Prints & Posters
Starting from $25
Standard edition prints & premium edition giclee prints: information.
Postcards
Type: Full color half-fold postcards
Dimensions: 5.8" x 8.3" / 14.8 x 21 cm (A5)
Paper: metallic/pearlescent
$6 per postcard

Traditional painting
We can create an acrylic replica of the original art in any size of your choice; colors and some details in the painting can be customized. Reproductions are hand-painted with eco-friendly acrylics on thick cotton paper. Don't hesitate to get in touch if you have any questions or queries. We're open to any suggestions!