Nikola Tesla: Light bulbs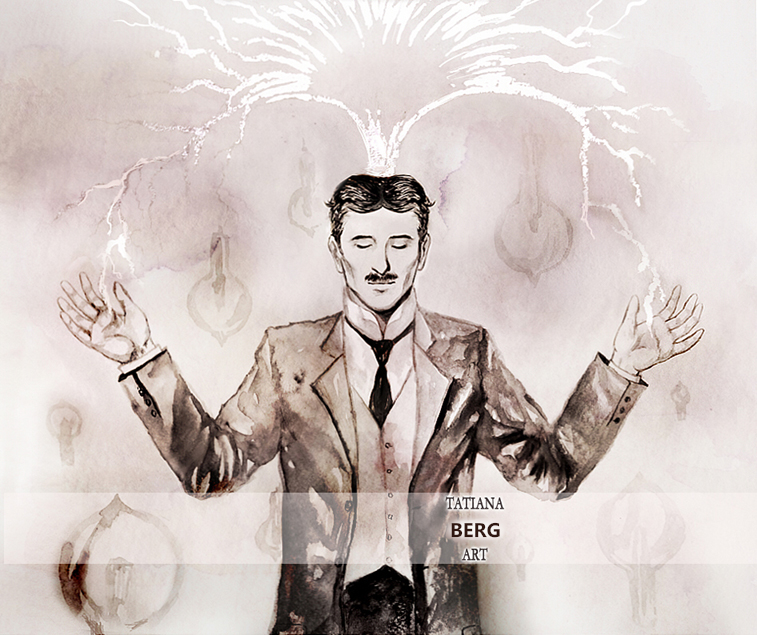 Nikola Tesla: Light bulbs
Portrait of scientist Nikola Tesla made with watercolor and silver leaf.
Find out what Tesla tells of himself and his life in Tesla's Words by Ellis Oswalt!
Emphasizing direct quotes from Nikola Tesla, Tesla's Words explores exciting details about the great inventor that have seldom been fully recognized, or have perhaps been misunderstood.
Prints & Posters
Starting from $25
Standard edition prints & premium edition giclee prints: information.
Postcards
Type: Full color half-fold postcards
Dimensions: 5.8" x 8.3" / 14.8 x 21 cm (A5)
Paper: metallic/pearlescent
$6 per postcard

Traditional painting
We can create a watercolor/silverleaf replica of the original art in any size of your choice; colors and some details in the painting can be customized. Reproductions are hand-painted with eco-friendly watercolor on thick cotton paper. Don't hesitate to get in touch if you have any questions or queries. We're open to any suggestions!