Nikola Tesla: A moment of insight

Close-up:

Nikola Tesla: A Moment of Insight
Have you ever noticed that the greatest discoveries burst upon the mind of their inventors as if out of nowhere? They would focus on a certain branch of human activity and suddenly receive enlightenment in the form of knowledge. They had the abilities that enabled them to hear without listening, to see without looking, to know and to get information almost immediately, while being in tune with the Universe.
The great physicist and visionary Nikola Tesla was one of such inventors. Tesla gave humanity a variety of breakthrough inventions and an even larger number of mysteries that for various reasons have not reached us or were intentionally kept secret by the genius himself. In my painting Tesla is portrayed with one of his humongous spiral coils. Many of his inventions were capable of miracles beyond human imagination. Deriving energy from the 'ether' and transmitting it wirelessly over long distances was one of Tesla's major developments. He demonstrated it numerous times, but in the end the secret was lost… Though, it is obvious that an infinite source of power could have radically changed the course of the whole civilization.
Every detail of the painting carries a certain underlying meaning. The two books in the scientist's lap symbolize knowledge. The fireballs are soaring in the air due to Tesla's astonishing connection with mysterious energy sources of the universe that he has harnessed by his boundless will. It is known that in the course of his experiments Tesla produced 'fireballs' the size of a soccer ball and could hold them in his hands (while that kind of power could make his laboratory burn to the ground!), he played with them, put them into boxes, covered them with lids and then took them out again.
In the painting, the spiral coil merges with the Universe that, according to Nikola Tesla's words, was the ultimate source of all of his ideas and discoveries. Tesla is spiritually inspired by this divine Source of infinite energy and knowledge. This is the moment of deep Insight, when the Genius and the Universe become one. 
"When I was a kid, it seemed to me that the mysterious spiritual world was somewhere nearby as if it started right behind the corner of our world. I remember a wonderful feeling of soaring, as if I was not only walking the earth but also flying somewhere high at the same time… And working on this Tesla painting brought this feeling back. While I was absorbed in painting his thoughtful face and bright blue eyes, it felt like some invisible part of me escaped our material world, and there I was, living two parallel lives–one here, sitting at my table and painting, and another one there–somewhere in the Universe at Tesla's place, meeting the man who would greet me like an old friend, smiling across time and space. It is not words that convey a message but the energy, and I hope that at least some part of that energy is present in my painting." 
—Tatiana Berg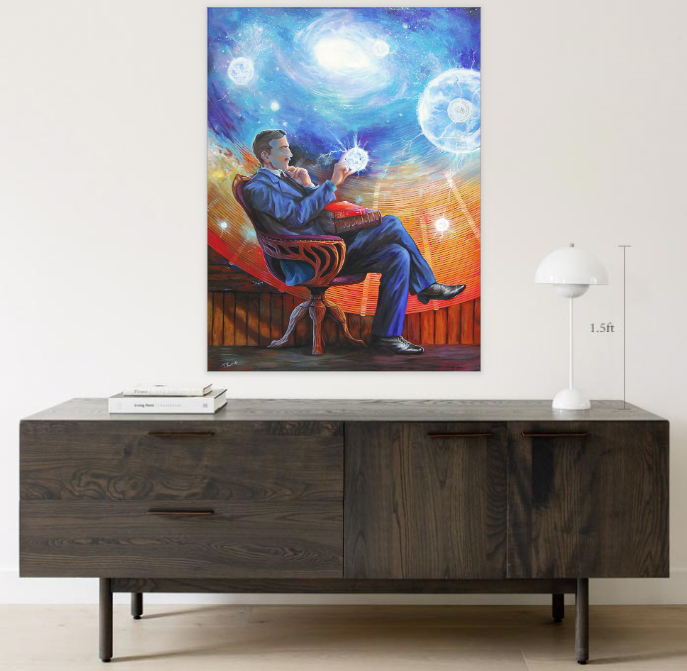 Prints & Posters
Starting from $25
Standard edition prints & premium edition giclee prints: information.
Postcards
Type: Full color half-fold postcards
Dimensions: 5.8" x 8.3" / 14.8 x 21 cm (A5)
Paper: metallic/pearlescent
$6 per postcard

Traditional painting
We can create a watercolor/silverleaf replica of the original art in any size of your choice; colors and some details in the painting can be customized. Reproductions are hand-painted with eco-friendly watercolor on thick cotton paper. Don't hesitate to get in touch if you have any questions or queries. We're open to any suggestions!
Video about the acrylic painting: