Lawrence of Arabia: Emir Dynamite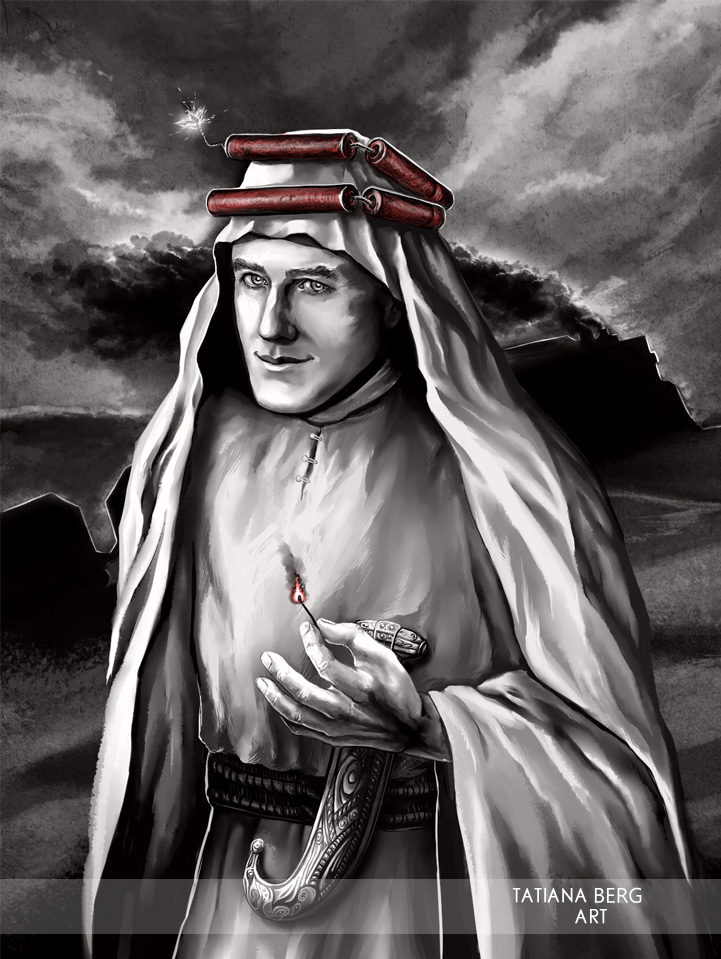 T. E. Lawrence (Lawrence of Arabia) Art: Emir Dynamite
T. E. Lawrence was nicknamed by Bedouin tribes Emir (Prince) Dynamite.
Doesn't this remind you of bushido a little? Being charmed with death, striving for the impossible, and tempering oneself by it:
"There could be no honour in a sure success, but much might be wrested from a sure defeat. Omnipotence and the Infinite were our two worthiest foemen, indeed the only ones for a full man to meet, they being monsters of his own spirit's making; and the stoutest enemies were always of the household. In fighting Omnipotence, honour was proudly to throw away the poor resources that we had, and dare Him empty-handed; to be beaten, not merely by more mind, but by its advantage of better tools. To the clear-sighted, failure was the only goal. We must believe, through and through, that there was no victory, except to go down into death fighting and crying for failure itself, calling in excess of despair to Omnipotence to strike harder, that by His very striking He might temper our tortured selves into the weapon of His own ruin."
―T. E. Lawrence, Seven Pillars of Wisdom
Prints & Posters
Starting from $25
Standard edition prints & premium edition giclee prints: information.
Postcards
Type: Full color half-fold postcards
Dimensions: 5.8" x 8.3" / 14.8 x 21 cm (A5)
Paper: metallic/pearlescent
$6 per postcard

Traditional painting
We can create an acrylic replica of the original art in any size of your choice; colors and some details in the painting can be customized. Reproductions are hand-painted with eco-friendly acrylics on thick cotton paper. Don't hesitate to get in touch if you have any questions or queries. We're open to any suggestions!