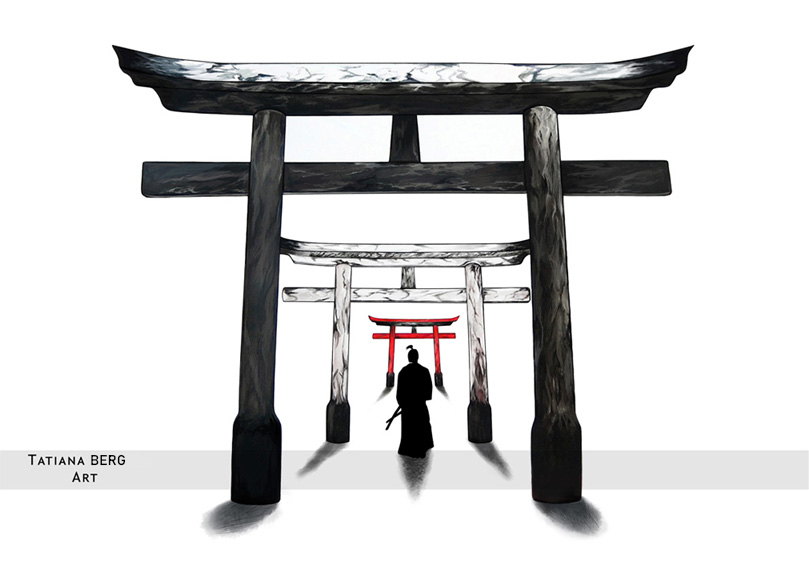 torii & samurai Art
Life of an ordinary person is no more than a tiny grain of sand in the Universe.
The samurai never wasted the treasure that is time, relishing every moment and deriving deep emotional gratification from the realization that nothing happens twice in this world. Such attitude filled their lives with a special meaning; the brevity of existence was what added a special kind of charm to it.
According to centuries-old traditions of the Land of the Rising Sun, the Shinto gate Torii symbolizes the fleeting nature of all existing things, acting as a visual reminder of the fact that in every moment of his short life, a man stands on the verge of Eternity and can suddenly find himself on the other side, having left the mundane world of the living and ascended into the boundless realm of kami.
During the course of our life we go through Gate after Gate in our sacral journey to Heaven... The watercolor&ink painting calls us to bear this in mind at all times and move only forward.
Every moment is unstoppable, it is the gates in which you cannot linger.
―A. R. Basov, Legend
Prints & Posters
Starting from $25
Standard edition prints & premium edition giclee prints: information.
Postcards
Type: Full color half-fold postcards
Dimensions: 5.8" x 8.3" / 14.8 x 21 cm (A5)
Paper: metallic/pearlescent
$6 per postcard

Traditional painting
We can create a watercolor replica of the original art in any size of your choice; colors and some details in the painting can be customized. Reproductions are hand-painted with eco-friendly watercolor on thick cotton paper. Don't hesitate to get in touch if you have any questions or queries. We're open to any suggestions!