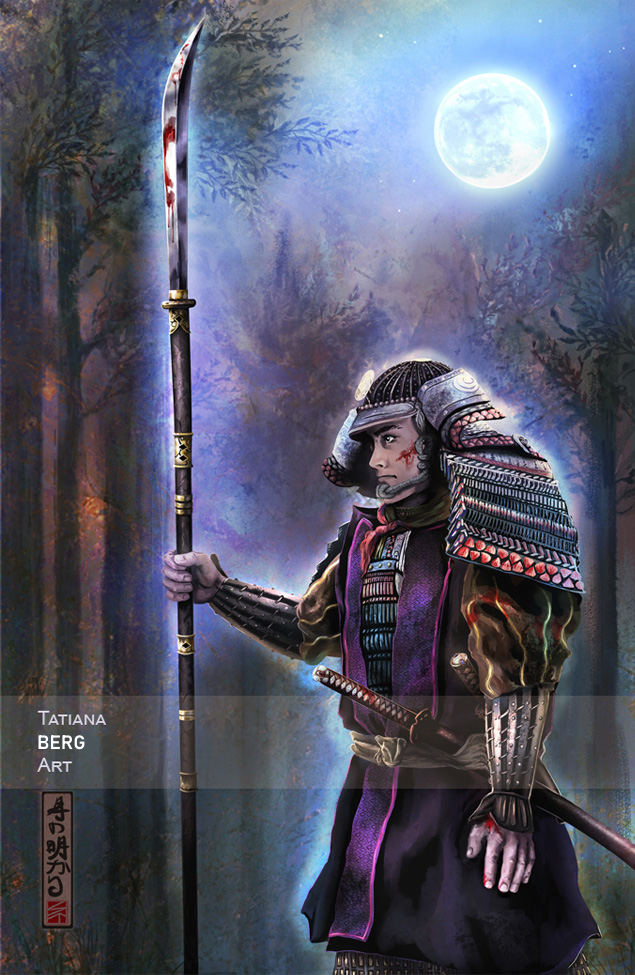 Loyalty
There's a samurai in Japanese armor and a kabuto helmet on the painting. He holds a naginata, ready to fight for everything he is devoted to and protect it till the last drop of blood.
Loyalty is an all-time criterion of Truth, be it Sengoku (Age of Warring States) or nowadays. It proves that a man has committed himself wholeheartedly to serving a higher cause and follows the Way to spiritual immortality. Without this virtue of the utmost importance no samurai could consider himself a truly impeccable warrior and join the 'pantheon' of Heroes worshipped by many generations. Loyalty was a samurai's ultimate weapon that could cut his enemies like a naginata; it was his mental armour that shone like an ancient Japanese o-yoroi cuirass in the moonlight, dodging not only enemy swords and spears, but also any dirt of the earthly world. But first and foremost, Loyalty was the main treasure of his noble soul.
"There was something that made the very essence of his life different from the existence of others.
It was his Loyalty.
It was not a matter of selling and bying, just like all things in the mundane world of wrethed people, changes and instability. His Great Loyalty was ultimate and filled all his life with incredible enjoyment and purity.
It was just like his Sword - the shining, flawless, unchangeable heavenly Steel!"
―A. R. Basov, Book of the Warrior
Prints & Posters
Starting from $25
Standard edition prints & premium edition giclee prints: information.
Postcards
Type: Full color half-fold postcards
Dimensions: 5.8" x 8.3" / 14.8 x 21 cm (A5)
Paper: metallic/pearlescent
$6 per postcard

Traditional painting
We can create an acrylic replica of the original art in any size of your choice; colors and some details in the painting can be customized. Reproductions are hand-painted with eco-friendly acrylics on thick cotton paper. Don't hesitate to get in touch if you have any questions or queries. We're open to any suggestions!